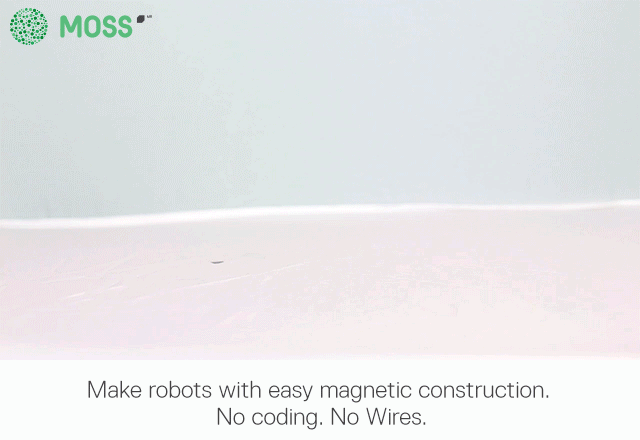 Three years after their successful Cubelets, Modular Robotics launched a new kickstarter today for Moss. It's like Cubelets just got clever and maybe a little bit more fashionable too. Moss is a dynamic robot construction kit and by the time you read this, the kickstarter will be well over the target of $100,000.  This is a loyalty and publicity kickstarter, not a plea for funding to get a prototype off the ground!
Moss blocks have magnetic ball joints to connect to each other – with one connection you have a universal joint, with two a hinge and with four you have a rigid construction. All the power and data pass through a single central button. No wires, no coding and very fast construction with a range of additional shapes to play with. Like cubelets, different colored cubes will have different features, like motor blocks, sensing and communication modules. There's a bluetooth block so that you can control your creations from your phone.
https://d2pq0u4uni88oo.cloudfront.net/projects/703495/video-308396-h264_high.mp4
"It's just a very different model of thinking about the world. On the one hand, you could say Cubelets are more advanced because they have a microcontroller inside every single piece and they talk to their neighbors digitally. MOSS doesn't have a microcontroller in each piece, and it uses really simple analog communication," Schweikardt said. "On the other hand… [with MOSS] you can have a lot more pieces working together in sync."
Boulder based Modular Robotics started off as Roblocks with NSF seed funding for educational robotics and small business development. Since then, they've picked up a decent Series A round of $3 million from Foundry Group (Brad Feld). And, since shipping for Cubelets started in 2011, the Modular Robotics team have been working on new things. An unexpected bonus of their NSF SBIR grant was a post-doc scholarship. This allowed Eric Schweikardt to hire Jon Hiller.
"When I was a post-doc at the Cornell Computational Synthesis lab (now called the Cornell Creative Machines Lab), Jon was a PhD student. Even in a world-class lab filled with the smartest people you've met, Jon stood out. He was working on discrete 3D printing, figuring out how to deposit tiny beads of material in dense grids to create forms with variable material properties. He built apparatus, wrote code, ran 3D simulations, and finished some super cool research. "
"Under normal circumstances, there'd be no way that a little, underfunded startup like Modular Robotics in 2010 could embark on the design of a second, totally unique robot project. But when Jon came out to join us, much of the work on commercializing Cubelets was complete. Since Jon was basically "free" to Modular Robotics, we decided that we should make the most of this bonus: we'd put him to work on a brand new something. Here we are, a couple of years later."
Modular Robotics have also teamed up with SF based artist Huck Gee to create a Shogun Tank, a samurai-inspired robot tank complete with missile turret. "MOSS in its early prototypes was just an abstract building kit," Schweikardt says. "It probably wouldn't have appealed to me as a kid because I liked enacting these big battles and narratives with my toys." Modular Robotics teamed up with Paul Budnitz, founder of KidRobot, to find artists who'd be interested in designing exclusive MOSS models. Schweikardt says Huck Gee is the first of many to come.
The design brief for the tank was to shoot a NERF type missile 3 feet with sufficient accuracy "to hit a cat sized target. Meow." No real cats were harmed in the making of this product, as far as I'm aware. And how clever is this? Prepackaged image with all the products and prices! If you want to have a successful kickstarter, study successful campaigns. Like this one.