Bossa Nova Robotics stands out in the self-driving robot funding round up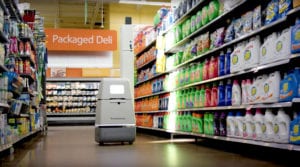 SAN FRANCISCO (November 14, 2017) – Bossa Nova, the leading developer of autonomous service robots for the global retail industry, today announced the close of a $17.5 million Series B financing round led by Paxion with participation from other investors including Intel Capital, WRV Capital, Lucas Venture Group (LVG), and Cota Capital. This round brings Bossa Nova's total funding to date to $41.7 million.
Robotics funding is on an exponential increase, with almost $1B invested in October 2017 alone. According to The Robot Report, this was largely in the areas of self-driving street vehicles. And the new kids on the self driving block are the supermarket robots. Robots that take inventory, or steer people to the right location in the store.
Arguably, Bossa Nova Robotics are the most advanced of the recent crop of robotics startups, not only because of their Series B raise, but also because they have a 50 store deal to provide Walmart with retail inventory robots. The new funding will support Bossa Nova in its expansion as the company grows its engineering and commercial teams and scales its robots and data services.
As Bossa Nova grows, they're also adding more talent, with Michael Marks joining the board of directors. Michael Marks has a stellar pedigree as the former CEO of contract electronics manufacturer Flextronics.
"Bossa Nova is solving a hard inventory problem that costs retailers billions of dollars every year," said Michael Marks, Bossa Nova board member and general partner at Paxion. "The company has developed a unique set of algorithms and proprietary technologies that give them a strong lead in autonomous robotics and retail data analytics."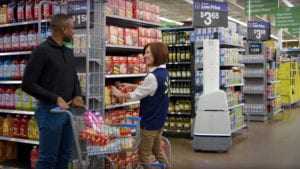 Bossa Nova empowers retailers to make informed inventory decisions and take rapid action by automating the collection and analysis of on-shelf inventory data in large-scale stores. Retailers can therefore improve their productivity and create a better shopping experience. With a multi-disciplinary team of robotics, computer vision, artificial intelligence, and big data scientists, Bossa Nova has solved the challenges to deploy fully autonomous service robots in busy and crowded environments.
"We are ready to scale and are thrilled to have the support of investors who can bolster our financial growth and bring a wealth of expertise in all the areas critical to our success," said Bruce McWilliams, president and chief executive officer at Bossa Nova. "The data Bossa Nova collected from years of real-life operation is the foundation of our best-in-class robots' performance. We have worked closely with our customers to field test our robots and data services and we now accelerating our deployment."
https://youtu.be/_j2oh432RFY
For more information, please visit www.Bossanova.com.