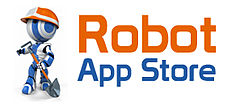 For Grishin Robotics, the future is in the clouds.
Grishin Robotics are investing $250,000 into RobotAppStore, an online marketplace for robotics applications. It seems that Grishin is betting on the robotics industry following the same patterns as the smartphone or personal computing industry. But can robotics be compared to either personal computing or smartphones, given the lack of a unified robotic platform or even a common robotic function?
Elad Inbar, the founder of RobotAppStore believes that we are seeing the same sort of convergence in robotics as happened in the mobile phone industry. In the early days of the phone industry, developers used to have to build a different ring tone for every single model of phone, even phones from the same company. This convergence in robotics owes a lot to the development of ROS and the increasing use of COTS or common technologies.
Since opening in 2011 in San Francisco, Elad and RobotAppStore have built up an inventory of hundreds of apps for dozens of different robots, from the Roomba vacuum cleaners, to Spheros, AR Drone quadcopters and humanoids like the Aldebaran Nao robots. The apps range from the entertaining, like a Roomba delivering a birthday cake and singing "Happy Birthday", to the eminently practical, like an app giving an early overheating warning for the Nao.
The market feedback is that consumers who purchase one robot app, go on to purchase all the available apps for their robot. Inbar also finds that many people who contact the RobotAppStore don't have a robot yet, but see the AppStore as a gateway to learning more about robots, so he's launched Robopedia, a 'wikipedia for robots'. Another way that Inbar is building the ecosystem of cloud robotics is by providing support for robot app developers, creating documentation to help developers make a career out of writing software for robots.
The personal robotics market is a rapidly growing industry – estimated by ABI research to hit the $18 billion mark in 2015. According to RobotAppStore estimates, based on figures provided by UNECE, IFR, ABI Research and BCC Research, more than 30 million programmable robots have been sold to date.
"Robotics is a combination of good hardware and software – thus, the important role of a project like the RobotAppStore in the market ecosystem is unquestionable. The concept of 'Cloud robotics', which implies ability of all robots to connect to the internet, share a common knowledge database and seamlessly upgrade their functions in real-time, is a soon-to-be future; one reminiscent of the of personal computer industry. We believe that the strong team behind RobotAppStore coupled with their ability to leverage the advantages of having strong community already built around the product, can make this future closer", said Dmitry Grishin, founder of Grishin Robotics, Co-Founder & CEO of Mail.Ru Group.
"The support provided by Grishin Robotics is a great vote of confidence in our plans for the company," said Elad Inbar, Founder & CEO of RobotAppStore. "It shows their belief in our vision and the importance of the marketplace for robotics applications. The robotics industry has reached its tipping-point with broad market acceptance, usability of robots, and the ability to extend the robots' capabilities. Being a part of Grishin Robotics' portfolio provides high synergy with other robotics companies and better resource utilization. We are excited to use this funding to secure our place as THE market-leader of the consumer and educational robot-apps™ industry. I would like to thank our community of developers, and invite awesome and creative developers to join us!"
I interviewed Elad Inbar, founder of RobotAp Store, for the Robot Startup Series, where he speaks in more depth about Grishin's investment in RobotAppStore and the synergy of their vision of cloud robotics.