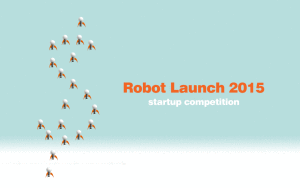 Robot Launch 2015 is bringing together a great pool of prizes and services for robot startups. All startups in the semis or finals are eligible for awards as we search for offers such as "Crowd Pleaser" or "Best European Startup", and for the first time, we'll be offering a grand prize of $5,000 to the winner, in cash or travel.
According to feedback from startups in last year's Robot Launch competition, startup services such as legal services, VC interviews and business coaching with VC firms are even more valuable than money. We are pleased to be bringing together for Robot Launch some amazing judges with experience in commercializing a wide range of robotics.
Once again, WilmerHale will be providing free startup services to US companies, now joined by LaBarge Weinstein offering legal services to Canadian startups. Robolution Capital will provide business model coaching to a European startup, as will QUT bluebox in Australia.
We're also able to provide some hardware/software for select startups, including a ROS consulting package from Clearpath Robotics, custom fasteners from Olander and robot development boards from KRTKL. KRTKL's snickerdoodle is a small and affordable board for powering the next generation of connected robots. With an ARM processor, FPGA, and wireless, snickerdoodle brings new high-end capabilities to open platforms like Linux, ROS, and ArduPilot. If you're building a robot, you need snickerdoodle. KRTKL will be launching snickerdoodle on Kickstarter soon but Robot Launch semifinalists will be first in line.
Sponsors this year include: Amazon, CSIRO, Clearpath Robotics, SMBC, Robolution Capital, The Olander Company, KRTKL, iRobot, LaBarge Weinstein, WilmerHale, QUT bluebox, Silicon Valley Robotics and Robohub.
We hope to add new prizes throughout the competition which will take place online over 3 rounds of judging from June to August. The deadline for entry is June 30th EXTENDED TO JULY 12th.
The competition registration site is here: http://robot2015.istart.org