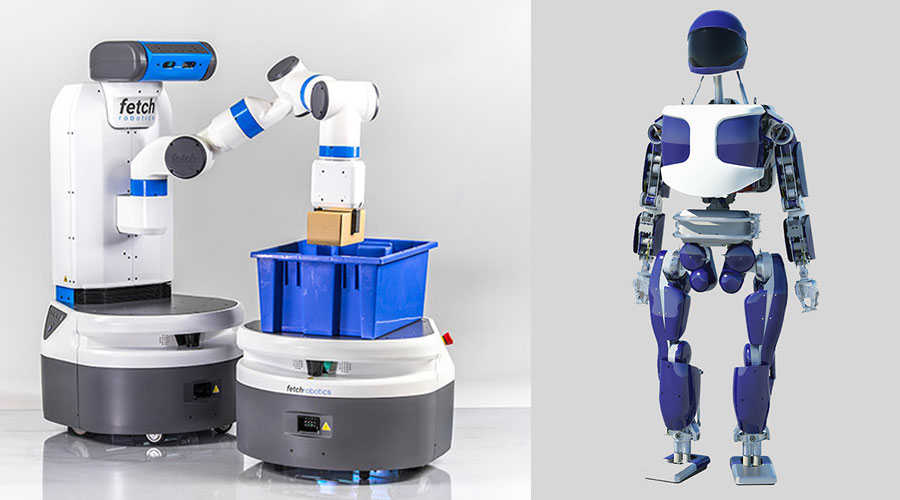 *updated* SoftBank today announced a $236 million investment into their robotics division by Alibaba and FoxConn for marketing and distribution, including Pepper and Fetch robots.  Fetch Robotics has just announced a $20 million Series A round lead by SoftBank, on top of the earlier seed investments of $3 million from Shasta Ventures and O'Reilly Alpha Tech Ventures. Fetch is a mobile manipulator aimed at the logistics and warehouse industry. At the same time, SRI International and Sandia National Laboratory have been showing off their new humanoid robots at the DARPA Robotics Challenge (DRC) Expo. While DURUS is still a research robot, we can now see that useful humanoids have a pathway to commercialization.
Fetch Robotics is the first of a group of companies commercializing mobile manipulators. So far all are on wheeled bases (because post DRC we've all seen how difficult it is to build successfully bipedal robots). The recent Amazon Picking Challenge showed us that there are a lot of commercial players interested in the logistics space. There were more companies in the audience, both large robotics companies, strategics and stealth startups, than there were teams competing in the challenge.
After Kiva Systems, Fetch Robotics is one of the first to market, with their two robots; Fetch, a mobile manipulator, and Freight, a mobile delivery platform. Fetch's strong Series A is a typical Silicon Valley play – go big fast. Robotics investment is following the global tech investment trends. Silicon Valley is investing more money than the rest of the world combined. Investing more money doesn't mean that SV is investing in a greater number of deals than anywhere else though. Early investment is strong around the world, but the size of investments at every stage are bigger in Silicon Valley.
It's a bit of a unicorn hunt but the hunt is leading into new market sectors, including hardware and robotics. An average series A round is $3 to $8 million. A $23 million seed/Series A isn't just about producing expensive hardware, it's about building a sales and marketing division to get robots into as many warehouses as possible.
"As businesses look for solutions to streamline operations and meet the needs of an on-demand economy, we see a tremendous opportunity for robotics to solve that problem," says Kabir Misra, Managing Director at SB Group US, Inc. "The team, the robots, and the timing all lead us to Fetch Robotics and we are happy to join them in bringing Fetch and Freight to market."

"I'm delighted to have SoftBank join the team and help us change the world of logistics and material handling," said Melonee Wise, CEO of Fetch Robotics. "SoftBank's expertise and worldwide resources with respect to technology, production, distribution and more will be a big help to our growing organization."
This isn't SoftBank's first robot company either, but Aldebaran's humanoid robots are entertainingly social rather than functional, and are being rolled out only in a marketing role. The SoftBank/Fetch partnership seems to be far more pragmatic. Teradyne's recent acquisition of Universal Robotics shows us that any company can become a robotics company, both as a good investment and as part of internal growth strategies.
We will be seeing more investment in mobile manipulating robots, not just arms or telepresence platforms or camera drones, but drones and robots able to deliver or do something. The general purpose humanoid is on the horizon!
The DRC showed us that real robots were finally leaving the lab and doing useful things in the real world in real time. 1 hour to complete 8 tasks was a high bar, and 3 teams beat the clock. But the blooper reel of robots falling over while doing the challenge demonstrate how far robots still have to go.
Outside the DRC challenge at the EXPO, SRI International unveiled DURUS, a humanoid robot designed to walk more efficiently than the Atlas used in the DRC. We thought that robots running for 1 hour off batteries was a big deal, but DURUS can run for 10 x longer. DURUS is just the legs and torso though. When combined with SRI's work on arms and manipulators, you have a whole humanoid, PROXI.
Rich Mahoney, the director of SRI's robotics program, explained to IEEE Spectrum what is coming over the horizon:
"We don't believe that there's a platform [that exists right now] that has the kind of components, performance, and dynamic response that PROXI will have. Hopefully we'll see a path where initially some research groups will start with them, and then in 3-5 years, if we get the volume, this is a robot that could be on sale for under $100,000. And even potentially in the $50,000 range, with any kind of reasonable volume. We have something that can open up a market: the platforms are getting ready to emerge that will enable the next generation of robot applications, and I think this platform will be one of those."
Fetch Robotics showed us that the world's most sophisticated research robot could reach commercialization in less than 10 years. The PR2 was a large humanoid manipulator on wheels developed at Willow Garage from 2006 onwards. A PR2 costs about $400,000. A Fetch is more like $40,000 and has clear commercial applications.  It's an exciting time when the biggest problems for robotics will be building the business model!