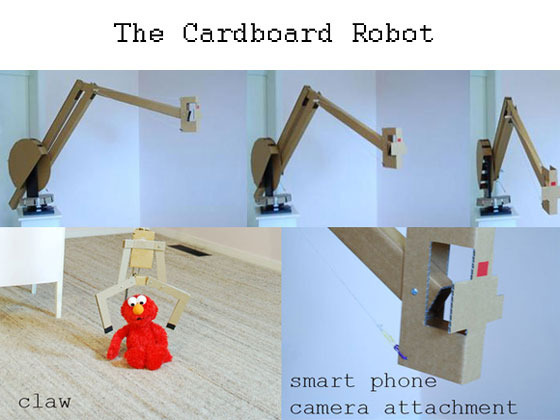 Ken Ihara's creation "The Cardboard Robot" has just been funded on Kickstarter. The Cardboard Robot is a giant industrial sized robot arm with a reach just shy of 6 feet. Attach the smart phone camera attachment, and you have a robotic camera crane. The computer-controlled cardboard robot plugs into your computer via the USB port and is fully programmable. In software, you can define set points and then have the robot arm run through the programmed path. You can save your programmed paths as CSV files, which you can edit in Excel.  Motor speed is independently adjustable. As PC World put it, one advantage is it's industrial size but can't kill you. The other great advantage is cost.
CNET– "Thanks to its corrugated construction, the Cardboard Robot lets you command your own industrial-size claw or film crane for a fraction of the cost of a metal arm."
There have been other cardboard robots, even robot arms but this one is the first to combine functionality with affordability. Ihara reached his relatively modest Kickstarter goal of $10,000 with days to spare. Also for every $3,000 that is raised by the Kickstarter funding campaign, Ihara will send one complete kit to a high school in the USA.
Cardboard is economical in and of itself, but its light weight as a material creates a reduction in costs across the board, as motors don't need to be as large or powerful, etc. Robotics is perhaps a better use for cardboard because of the flow on effect, rather than the infamous cardboard bicycle which might only cost $9 to make but will retail for approx $90. You can buy a metal bike from Walmart for the same price. (Gioria Kariv from Israel is pictured here from recent press but another variant was also created in 2008 by UK student Phil Bridge)
Kariv credits a cardboard canoe for giving him inspiration. I am similarly inspired by the Origami Kayak. Oru is made out of corrugated polypropolene rather than pure cardboard , but has similar features. It's strong, light, flexible and cheap. Both materials allow for different design and manufacturing techniques which haven't been fully explored yet.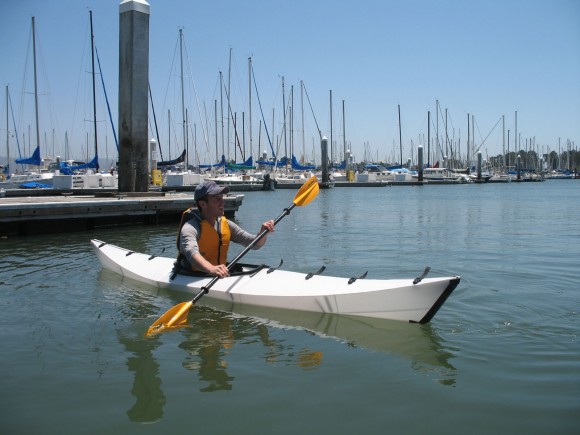 If you haven't seen Anton Willis demonstrating his kayak at TechShop or at meetups, then you can read David Lang's piece on Oru for Make Magazine. Anton Willis used TechShop to create prototypes for a product that is now ready for sale. He's also inspired by the many other untapped projects for polypropolene and cardboard.
The potential in new ways to construct robots is as exciting for robotics as the other recent changes like rapid prototyping, bespoke manufacturing and 3d printing.