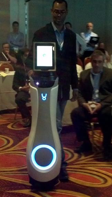 Bossa Nova Robotics launched the lean version of Rosie, the robot maid from the Jetsons, today at Robobusiness. CEO Martin Hitch explained how Bossa Nova have taken their experience in the brutal and rapidly evolving robot  toy industry and translated it into what they hope will be the prototype of the common 'economy model' household robot. Bossa Nova are releasing the SDK and looking for developers. Oh, and it's running Windows/Ros, and is tablet agnostic on a sleek 5 foot body on a pivoting tripod base with (patented) safety legs that can deploy even when powered off.
Robobusiness 2013 will be coming to Silicon Valley with a  startup focus (with Robot Launchpad) and there's been a thread on lean methodology running through the keynote expert panels this morning. Dan Kara (analyst, Robotics Business Review)  is currently writing a piece on lean startup methodology for robotics. Dmitry Grishin (mail.ru & Grishin Robotics) wants to see more rapid iteration and testing.
Jan Westerhues (Robrt Bosch Venture Capital) wants to see real problems being solved using existing technology with a fast market path. Rodney Brooks (Rethink Robotics,  iRobot) says business models maybe more important than technology devlopments for robotics growth and that a customer development focus highlights how critical good design and usability is for success.
Customer development and solving real problems were at the heart of Aethon's presentation and their mobile hospital robots are expanding in scope as well as distribution. But reducing research and development time by narrowing scope and producing a minimum viable product were the critical tactics in the early stages and spring directly from good customer development and market segmentation.
Gartner may have put mobile robots on the peak of the inflated hype cycle but from what we see today, it looks more like the start of a steady upward curve.