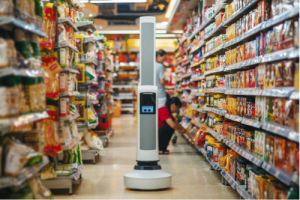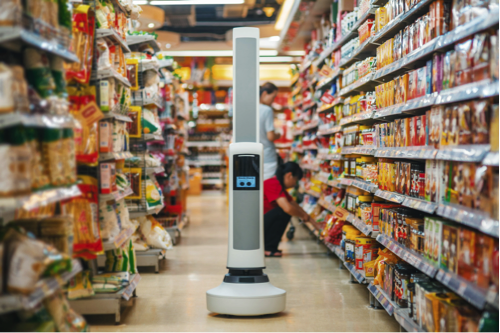 The area of service robotics is getting active, with a new retail robot startup launching today. Tally is one of several robotics startups launching today at Haxlr8r's 7th Demo Day. Tally is an inventory tracking robot platform from Simbe Robotics and the "world's first robotic autonomous shelf auditing and analytics solution" according to the press release.
Tally from Simbi Robotics is in trials with several North American retailers and will traverse aisles scanning and auditing merchandise to help stores maintain ideal product placement, fill inventory gaps, and find misplaced or mispriced items. Tally is also capable of autonomously returning to base to charge.
"When it comes to the retail industry, shopper experience is everything. If a product is unavailable at the time the shopper wants to buy it, the retailer has missed an opportunity and disappointed their customer," according to Brad Bogolea, CEO and Co-founder of Simbe Robotics. "Tally helps retailers address these challenges by providing more precise and timely analysis of the state of in-store merchandise and freeing up staff to focus on customer service."
Before we could have robots rolling up and down the aisles to improve our data and delivery, we needed to have robots able to autonomously navigate and operate safely around people in the unstructured messy real world environment. Improved computation power and sensing technologies have allowed us to solve these problems and what remains is the business model problem. Who will be the first to adopt robots and why?
Tally is one of several new service robotics businesses emerging this year and Silicon Valley Robotics is starting a series of case study reports on the service robotics industry. The first report is due to be released on November 18 and features Savioke, Fetch Robotics, Fellow Robots, and Adept Technologies.
Savioke make the hotel delivery robot, Relay, which is now deployed in four hotel chains in California. Fetch Robotics make an e-commerce pick and pack robot assistant. Fellow Robots make OSHBot, a retail assistant for Lowes Hardware Stores. And Adept Technologies make a general purpose mobile robot base which is being used for deliveries in hotels, hospitals, factories and even restaurants.
Other reports will be released in 2016 looking at startups like Simbe Robotics, Dispatch, Nua Robotics, BossaNova Robotics, RobotsLab, Catalia Health and Cleverpet. Some of these startups have bootstrapped but several of have launched recently from accelerators, including Lemnos Labs and Haxlr8r.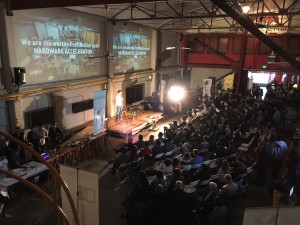 Haxlr8r is going from strength to strength, with more than 80 companies graduating from the program. Haxlr8r has always had a soft spot for robots and have identified robotics as one of 5 tech trends to watch. Alongside Simbe Robotics launching today were Nua Robotics and Dispatch.
The first product from Nua Robotics, an Israeli startup, is a smart suitcase which can follow you around, avoid obstacles and even charge your phone, although the founders are keen to point out that they are building a very affordable platform for mobile navigation integrating with your smartphone which can be used in many ways.
Dispatch Robotics have built Carry, a more rugged autonomous mobile base aimed at last mile delivery for the 'on demand' economy. Carry has 4 compartments allowing for multiple deliveries at a time. And there was also FlexBot, a 3D printed drone and MakeBlock, who have just raised $6 million from Sequoia Capital. But Haxlr8r also showcased edible insect farms from a cool startup called Livin Farms, an orthopedic implant startup and an ultrasound brain stimulation startup investigating depression and Alzheimers. The robots have got competition!