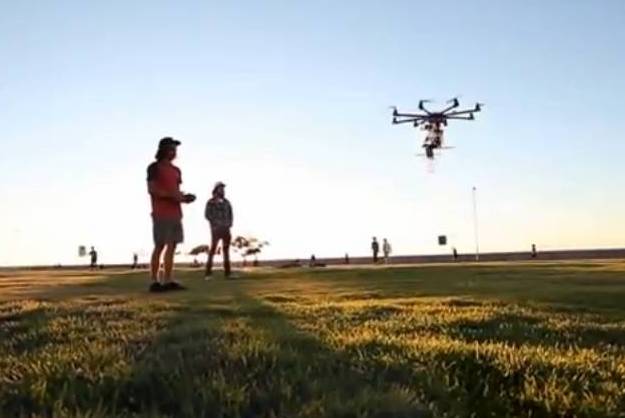 Food drone delivery ideas are taking off all over the place. But is it a business or just an advertizing stunt? Tacocopter was one of the first although still more of a theory than a practice. Stanford Robotics Club is carrying on the mission and delivering subs to students. Joining the ranks are an African beer drone, a UK pizza delivery copter and an aerial sushi tray. The OppiKoppi beer drone will be parachuting beverages to music festival attendees.
The aerial sushi tray at YO! Sushi is also handguided. It's based on a Parrot AR.drone and as the tray sits on top of the rotors getting your food is a dicey proposition. That's ok though, the aerial sushi tray is all about creating buzz for a new product line, not replacing wait staff. And most likely, the DomiCopter is an advertizing stunt not a serious logistics play. One of the project partners with Dominos Pizza is a creative agency, T + Biscuits.
Face it, drones are not ideal for payload delivery under most business conditions. But that doesn't mean there aren't some serious waves taking shape under the froth. Matternet are making a bolder claim. Creating a large net of drone transport for small and critical supplies in areas where there isn't other infrastructure. Matternet did field trials in the Dominican Republic and Haiti in late 2012. Matternet aim to create "the next paradigm for transportation using a network of unmanned aerial vehicles".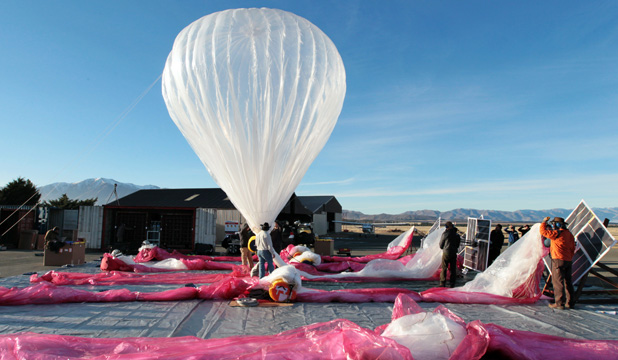 This sort of disruptive platform play thinking saw Google launch Project Loon in Christchurch a few days ago. Stratospheric balloon arrays bounce internet signals to places previously inaccessible or disaster affected.  Two thirds of the world's population is still without internet access and Christchurch is a symbolic place to role out the first stages of what is a global plan.
The 2011 earthquake in New Zealand's 2nd largest city killed 185, destroyed half the city center and 80-90% of the area's infrastructure. 2 years on many residents remain without permanent housing and the city's central shopping mall has only just reopened – in a shipping container structure. It's now estimated that it will take the New Zealand economy 50-100 years to recover from the 40$B repair bill. This makes Christchurch is a good test site for a blue ocean play as residents were used to all the mod cons but are also pragmatic about making do.
Which comes back to the original question, are food delivery drones a good business proposition or just an advertizing stunt? Where the general public love frothy interest pieces about tacocopters, real robotics companies are looking for more serious business plans. But without generating the public interest and acceptance of drone delivery, then more ambitious projects like creating infrastructure in Africa and internet in the stratosphere are unlikely to get off the ground.
Without TacoCopter, Matternet might not be getting investors. Even Forbes magazine thinks that a 'moon shot' like Project Loon is far closer to the real business plan for Google than the far more tangible Google Glass. But then, Google Glass is just opening the doors for next year's uber generation of really augmented devices. Froth travels on waves.